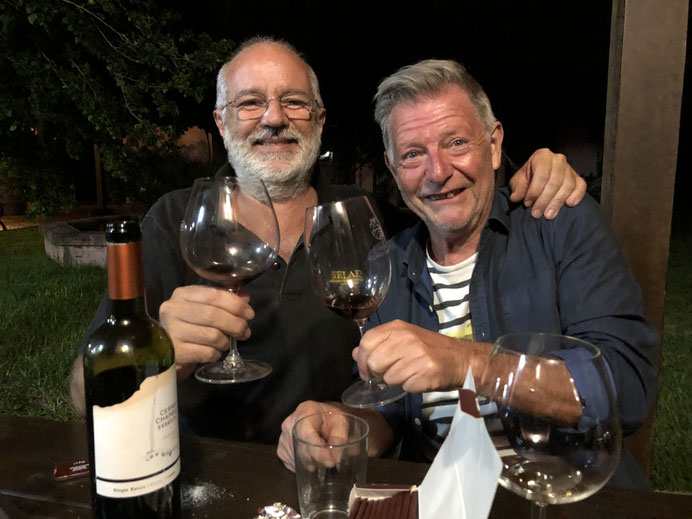 Vanuit Montevideo reed ik een kleine 7 uur met de nachtbus noordelijk naar de Braziliaanse grens tot in Rivera waar Francisco Carrau & zijn vrouw Joyce "Tati" Stewart (pédiater) me oppikten. De weg naar de bodega Cerro Chapeu slingert constant off road over de grens tussen Uruguay en Brazilë. Francisco heeft dan ook wijngaarden in beide landen. Hun prachtige hacienda is gelegen op een heuveltop, omringd door 350ha wijngaarden, olijfgaarden en weiden met vee. Een zalige plek waar vogelspotters (meer dan 400 soorten in Uruguay) hun hartje kunnen ophalen. Vanuit hun woonst zie je de Braziliaanse winery, die momenteel nog niet in gebruik is. Na de heerlijke lunch, bereid door Léci die al sinds jaren het huishouden bestiert, nam Francisco me mee zijn winery op Uruguaanse bodem. Het was volop oogstperiode en in het labo worden de gistende most dagelijks minutieus gevolgd. Ingrijpen tijdens de gisting voorkomt een onnatuurlijk evenwicht in de wijnen. Zo was er die dag een wijn die kans maakte op oxidatie. Na herproeven, besloot men tot omroeren en toevoegen van bentoniet, een kleisoort die zich bindt met enzymen en zo antioxydatief werkt.
Francisco Carrau is professor "chemistry, food & microbiologist" aan de Univ. De La Republica van Montevideo. Facultad de Quimica. Hij heeft talloze publicaties op zijn naam, oa over spontane gisten.
Tijdens mijn bezoek was ik niet de enige gast. Ook Titina Nunez, schrijfster, logeerde er enkele dagen om aan haar nieuwe boek over "tannat" te werken. Bij de "asado" 's avonds was ook de jonge stagiair wijnkunde, Martin Barcello, aanwezig.  Maar eerst doken we nog de privé wijnkelder van Francisco & Tati in om er enkele oudere wijnen uit te kiezen. 
I drove from Montevideo for about 7 hours in the long distance night bus north to the Brazilian border to Rivera where Francisco Carrau & his wife Joce "Tati" Stewart picked me up. The road to their bodega Cerro Chapeu constantly winds off road across the border between Uruguay and Brazil. Francisco therefore has vineyards in both countries. Their beautiful hacienda is situated on a hilltop, surrounded by 350 hectares of vineyards, olive groves and pastures with cattle. After a delicious lunch with local delicacies, prepared by Léci, who has been running the household for years, Francisco takes me to his winery on Uruguayan territory. It was plenty of harvesting time and in the lab the fermenting must is following daily with the greatest attention. Intervention during fermentation prevents imbalance in the later wine.
That day there was a wine that had a chance to oxidize. After re-testing, it was decided to stir and add bentonite, a clay  that binds with enzymes and works as an anti-oxidation agent.
Francisco Carrau is professor chemistry, food & microbiologist at the university De La Republica of Montevideo. He has numerous publications to his name, about spontaneous yeast among other subjects.
During my visit I was not the only guest. Also Titina Nunez, writer, spent a few days there in order to be able on here new book about "tannet" in peace, and to interview Francisco. In the evening, at the "asado", the young wine intern Martin Barcello was also present. But first we dived into the private cellar of Francisco & Tati, to choose a few older wines.
---
---